I do this thing where I will say to myself.. a week ago, we were here. Big events, fun events, memorable events.... I'm not sure why, but I've been doing it ever since I was a kid.
So naturally, I began thinking just a week ago... we were getting ready for Harry Potter world tomorrow!
The last week was indeed a whirlwind of family fun time, relaxation in beautiful Hilton resort pools, wet slathering humidity sometimes interrupted by rainstorms (which left me stomping through the puddles in my Rainbow flip flops which are really gross when the dirt particles float into your shoe and refuse to leave), childlike shrieks from grown adults nearing 30 and above at the onset reality of being face to face with
Hogsmeade
and Hogwarts castle (that is Harry Potter world in case you did not know), occasional nausea from the 3-D rides ignored by the adrenaline of wanting to ride more rides before the day is over, and a lot of failed but some successful attempts to feed Jordan in the midst of all the chaotic and extreme delight of a week we had. For one week, Andy, Jordan and I joined Andy's family for his mom and dad's 30 year anniversary in beautiful, touristy and severely humid Orlando, Florida (Thank you May and Dennis!!)
To begin, we arrived last Thursday at 10 PM east coast time. Refusing to admit our bodies were capable of adjusting to the three hour time change in just a day, we (well mostly our brother in law Jeff, but we followed along) constantly referred to the fact that our California internal time clocks had not rectified itself and we needed more sleep or more food. So after following a pizza delivery truck back to its home base, our aunt and uncle, Jan and Ike, arrived with two pizzas, lots of water and diet coke for us to devour in mere minutes around 12 AM (but remember, that's only 9 PM California time).
The next couple of days were filled with errands and pool time. We began by stocking up at Costco where we briefly entertained the idea of truly putting Costco's return policy to the test with say a purchase of a 60" plasma television, some bikes, surfboards, and high quality SLR cameras; alas our integrity stopped us from ever going farther than putting some boxes of merchandise into our cart and subsequently removing it. Back in our 12 passenger van (I'm sure you were already wondering how we got around), we ventured off to the Hilton resort pools where our Jan and Ike are long time timeshare members, and they have been members for so long that their photos are hanging in the Corporate Hilton Timeshare office (probably helps that they are the token Asian representatives).
Jan with Jordan at Costco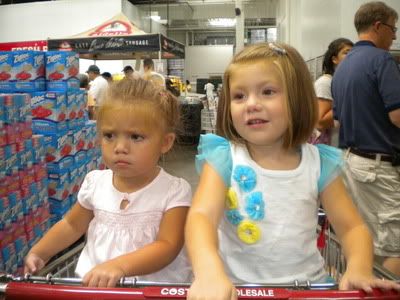 Violet and Sophie eyeing the free samples
Ike with Jordan
Fun in the pool!
Saturday began with an early morning 5k run that Andy's dad, Dennis, had somehow coaxed us into before we arrived in Florida and felt the heat and humidity and as Jeff reminded us, we were getting up at 3:30 AM California time to do a run at 4:30 AM! I finished last with a time of 38 minutes but considered it quite an accomplishment considering I have not run more a quarter of a lap in the last year (and because in seventh grade, I could not even run a mile and took home a C in PE which got me in big trouble with my mom as I cried about how unfair it was because I was just not physically capable of running a mile! Take that Mr.
DiGiacamo
you big calved monster of a teacher). But mind you, my prideful self kept thinking,
I am totally going to beat Jeff, this is great!
(because I never saw him run pass me.... failure was met when I crossed the finish line, only to see everyone watching me, the last place among the family) Following the run, we loaded up on free protein shakes and snacks at the finish line, watched our niece Sophie and Aunt Jan do a kid run and stayed in anticipation of what Andy would receive for taking 1st in his age group (it was a bit
anticlimactic
, just a string drawn bag).
Saturday afternoon was filled with BYU football's first game of the year. I watched as Andy, his dad and his brother in law focused in on the non-HD television (a bit of a bummer, but nevertheless having the channel itself made us quite grateful), clenching their fists, biting their nails, repositioning themselves on the floor and couches, pacing the room, and yelling as if the players could hear them. To say they are fans is an understatement. It was a great game against Ole Miss and Jordan woke up just in time to make his debut in his BYU football jersey as the winning touchdown was made (he may have been the lucky charm BYU was waiting for).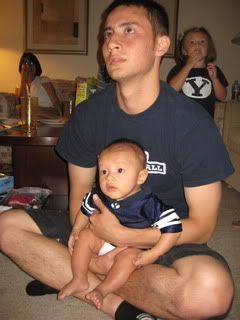 We made our way to the local LDS Church on Sunday morning where I spent most of Sacrament in the maternity lounge. It always amazes me how the organization of the Church is the same yet different, everywhere we go. I quickly noticed we were the only Asians in the congregation yet the testimonies invited the same Spirit despite how obvious it was that we were in the South. That afternoon, we ventured around Orlando in matching white tops and blue jeans for family photos and Jordan got his first pair of jeans!
(no photos as they will be revealed later, but here's a cute one of the cousins trying to hang out with immobile Jordan)
Monday, we went to look for gators and boy was it scorching. I got quit dark from the thirty minute unsuccessful boat ride due to the heat and timing of our visit coinciding with hunting season.
I don't like getting dark and this is the only hat I brought... I KNOW it does not match.
A gator eating Jordan's head! Ahhh!
Funny how I meant to blog about our time at Universal Studios and Harry Potter world but I am now too tired to continue.. so as cliche as it sounds, sometimes pictures speak louder than words. HAHA.
Jordan managed to sleep while waiting in line and ps Universal Studio's "child swap" system is really nice and easy, similar to Disneyland's "stroller passes," except you get to wait inside the ride while the first group goes and take not just one, but multiple people back to re-ride the second time around!
End of Day 1 Universal Studios... Day 2 = Harry Potter world (and other unimportant stuff)
Butterbeer is so delicious.
We forgot to bring Jordan a hat so the washcloth worked for a bit....yes, that's a moving poster of Sirius Black!
Hogwarts!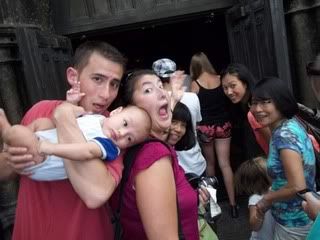 going into the Castle for the SECOND time around (beat the lines at 9 AM the first time)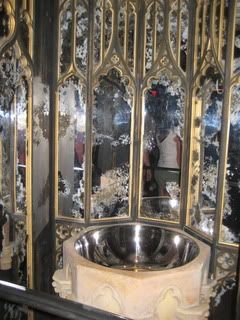 saw the Pensieve the second time around!
HoneyDukes from Harry Potter, so many sweets!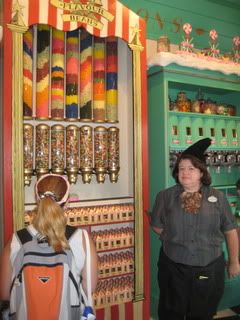 I love the employees' outfits!
Beautiful!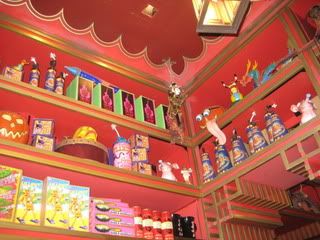 Weasleys' Wizard Wheezes Joke Shop!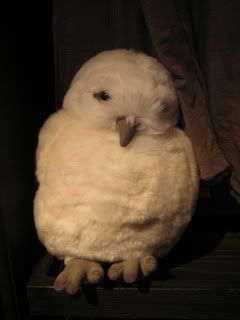 Hedwig... I was so tempted to bring him home for Jordan.
Hogwarts Express!