One of my favorite parts about college was dressing up for crazy parties. Coincidentally, that was also my favorite part about drinking before I became Momo. So when people ask me if it was hard to give up alcohol, it's pretty easy to understand why it wasn't. On the one hand, I had a source of strength from Heavenly Father that is indescribable and unlike any capability of my own. On the other hand, I still get to dress in costume for parties (and my husband does not object and so far we have dressed up for Halloween, Christmas parties and we like to match for Church a lot). Once dressed up, we have enjoyed the company of other friends of like minds and together, we have played wacky games and enjoyed Costco appetizers, bubbly Martinelli's and yummy desserts.
Enter....our 1st Annual Phillips' Tacky Christmas Party (the annual implies we will be doing this every year going forward now...) This was the photo we used on our invite, our sweaters from 2009 which have been used 3 times but were never washed since everything was glue gunned on. Hahaha... we can't find them, we think we threw them away.
Did I ever tell you I go to the largest ward (church meeting group we are demographically bound to) with so many young couples, that hosting a party actually becomes difficult to figure out how many people our tiny apartment can fit?! There were so many people I've talked with a few times or gone to baby showers for who I wanted so badly to invite, but sensibly so, my husband advised me to keep the guest list to 50 (excluding kids). Even though there is never 100% attendance, it was hard and I finally imposed an invite of couples and friends who had come to our apartment or hosted us at theirs at least once, or couples we had hung out with more than twice. It sounds silly that we even have to do that, but seriously.. the friends we've made from our ward are many and our ward is hip, young, fun, hot, neat, and cool. If I knew how small of a group would have actually showed up since a lot of people had left for the holidays, I would have invited way more people! Okay, that's my sad rant for those who I love and have met and was not able to extend an invite to.
So apparently ugly Christmas sweater parties are so popular now, one cannot find anything good at Goodwill or Salvation Army. The trick these days is to stop by K-Mart or Wal-Mart for a cheap and festive sweater or holiday outfit. I made ours again (that seems to be the easiest way) so our outfits were under $5 for all three (used what I had).
Blair and Tyler
Jill and Sean
Al, Alex and Whitney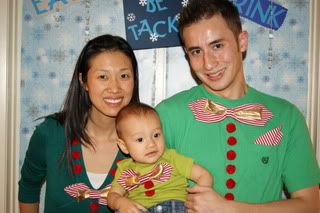 Andy, Jordan and me
Mike and Cassy
Dan and Tori
Ryan and Diane
Gabby, Paselly, and me
Jordan loving that Cassy is feeding him instead of Daddy or Mommy
Whitney and me with our babies
Jill and Whitney
We had a white elephant gift exchange with some hilarious gifts including a tall wicker giraffe that now sits in our living room.
We also played Minute to Win-It and had so much fun, I failed to take any photos except for this one game which was hilarious... they had to use the banana to get the apple to the finish line.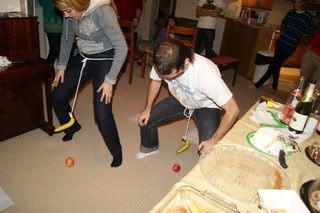 And that's a wrap. Hope your Christmas parties were as tacky as ours.